Meet Yoga Therapy Greece
Evi Dimitriadou
Evi is a Certified Yoga Therapist by the International Association of Yoga Therapists (C-IAYT), a Physiotherapy graduate from Manchester University, is doing a Master's Degree in Psychology and Neuroscience of Mental Health Conditions at King's College, London and is a Yoga Therapy Educator and founder of Yoga Therapy Greece, (RYS-300), a member school of IAYT.

  Yoga Therapy Greece is 1 of only 3 Yoga Therapy Schools in Europe offering 2 years of Yoga Therapy Studies Accredited by the International Association of Yoga Therapists (IAYT).

In addition to the Yoga Therapy Training for Yoga Teachers, she gives 1-2-1 Yoga Therapy Sessions, Yoga Therapy to groups and Yoga Therapy workshops to health professionals such as physiotherapists and psychotherapists.

Her thesis in Physiotherapy was about integrating Yoga Therapy elements in Physiotherapy and her thesis in Psychology and Neuroscience will be on Mindfulness integrating meditation and yoga therapy.

   She strongly believes in the power of research and the importance in integrating sciences such as Physiotherapy, Psychology and Neuroscience, Medicine, Nutrition with ancient wisdom such as Yoga and Yoga Therapy. Evi also writes articles for Yoga Therapy Today the journal of the International Associations of Yoga Therapists, for OM magazine in the UK and for Athens Voice in Greece.

Evi loves to give personalized yoga therapy sessions since she sees the great effect on mind and body and their shift to their best version of themselves. She also loves to teach yoga therapy, seeing the students/yoga teachers personal and professional transformation to great yoga therapists and happier and healthier people.

Besides having given more than 4000 hours of Yoga Therapy Studies and Yoga Therapy Workshops she has given more than 2000 private yoga therapy sessions in Athens and London for:
Mental health phenomena such Anxiety, Panic Attacks, PTSD, Insomnia, Headaches, Depression, Chronic Fatigue Syndrome, Grief, Addictions, Eating Disorders
Musculoskeletal issues such as chronic pain, CRPS, fibromyalgia, Neck and Shoulders, Wrists, Low and Upper Back pain, Hips, Knees and Feet, as well as Kyphosis and Scoliosis.
Auto immune disorders such as Diabetes, Rheumatoid Arthritis, Multiple Sclerosis, Parkinson, Psoriasis etc.
Digestive problems like Constipation and Irritable Bowel Syndrome.
Women's Health Issues such as Fertility, Menopause, Incontinence.
Cardio-respiratory conditions such as Hypertension, Asthma, COPD, Bronchiectasis, COVID-19.
Immune Challenges like HIV and Breast Cancer.
She also has a Marketing Management Degree from the American College of Greece, and she speaks 5 languages, fluently Greek, English and Spanish, very well Italian and basic German.  She is also a worldwide traveller and writer of published books in Greek including 'Around the world in 80 countries' and 'Humanitarian Mission accomplished' after coordinating humanitarian missions in Iraq and Afghanistan.
"I do believe in every individual's full potential to become healthier, happier and wiser."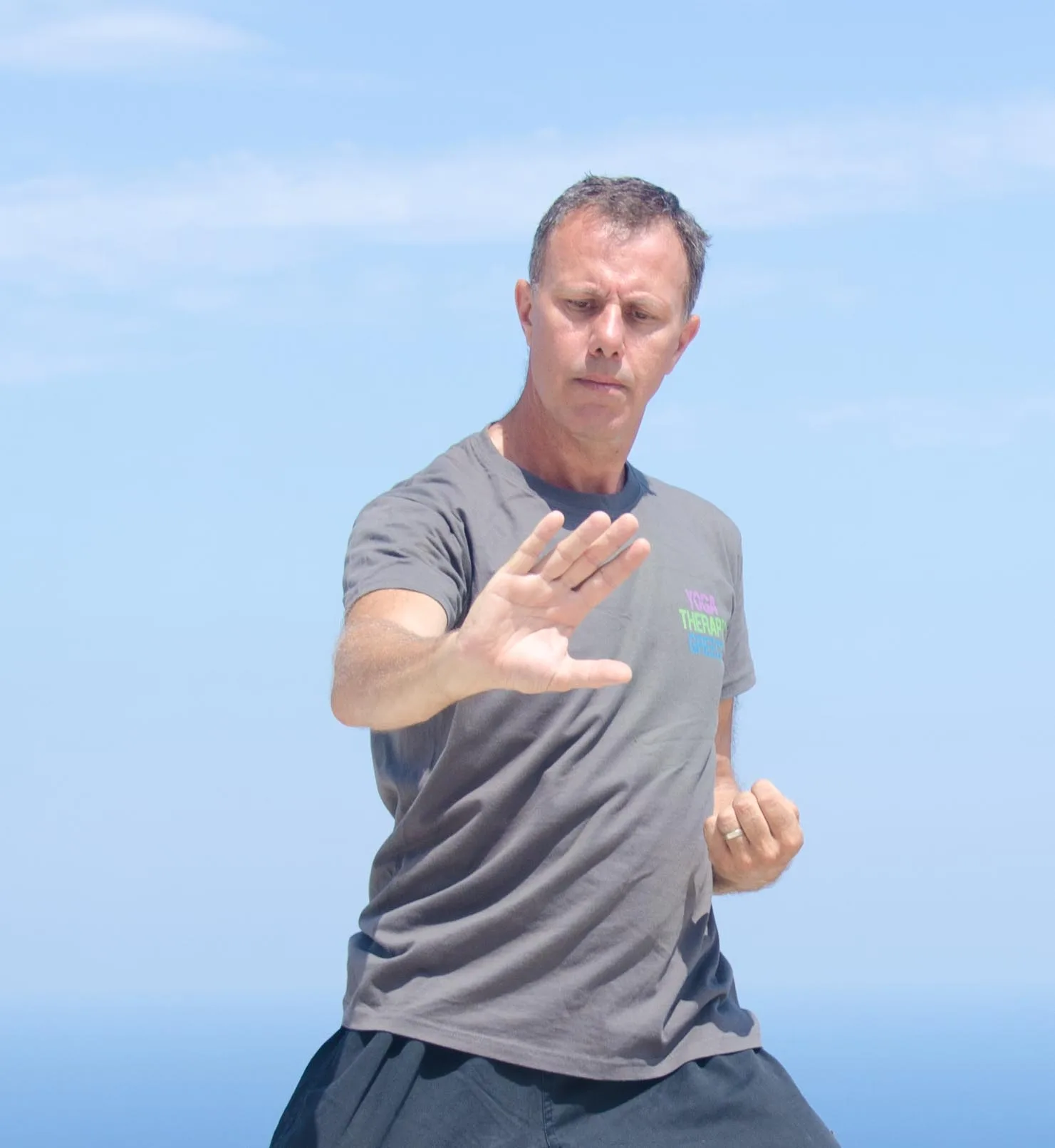 Brian Ewen
I am the School Director of Yoga Therapy Greece, a C-IAYT Yoga Therapist and devoted Tai Chi practitioner and teacher as well as being certified in acupressure.
I first started studying Tai Chi in London around 1986. I soon realized some of the many benefits and the great potential found within this art. From those early days I committed myself to regular practice, continuous learning and to obtain a deeper understanding of Tai Chi and Qigong.
Since that time I have learnt with various teachers and masters. In 1998 I attended some very impressive workshops with Master Alex Dong. Given the Dong family's unique lineage, their teaching of authentic Tai chi and seeing Alex's mastery of the art I decided to make the Dong families teaching system my main source of learning.
I have travelled extensively around Europe, to America and China to attend numerous workshops to further my learning and depth of knowledge in both Tai Chi and Qigong. I have made this a life study and I now give lessons in groups or privately in England, Croatia and Greece as well as online.
In relation to this I studied acupressure at the Shiatsu College in London. Learning not only how to work with my own energy but how to work with the energy of others in a balancing and healing way.
When I met my now wife Evi my interest in self-care and wellbeing practices was broadened to incorporate yoga and yoga therapy. It was clear that there are many similarities between Tai chi, Qigong and Yoga but with the help of Evi I also learnt by experience how Yoga Therapy with its very personal approach can specifically target a person's unique needs in a very effective way.
I subsequently went on to study Yoga and Yoga Therapy and I am now a registered a C-IAYT yoga therapist.
Before moving to Greece in 2017 I initially worked in Britain having my own boat refurbishment business before working in a very stressful environment as a construction manager for over 25 years.
This experience helped me greatly when it came co-founding with Evi Yoga Therapy Greece where being the School Director I am responsible for the more business technical related matters, whilst also assisting and teaching which I must say I enjoy very much.
I am also a proud father of two grown up children, a daughter who is living in Hong Kong working for Human Rights in East Asia and a son who lives in London working in the entertainment industry.
Apart from my love of travel my other main interests are free diving as well as learning and playing the guitar and saxophone.
I feel grateful to personally experience and see at first hand the unique benefits and transformation that Yoga Therapy, Tai Chi and Qigong can bring to a person's life. I especially enjoy seeing how our students develop and grow, firstly learning what is good and best for themselves and then seeing how they then go on to greatly help others, in the process full filling their own dreams.
This makes me very proud to be a part of Yoga Therapy Greece working with Evi and the faculty, where hopefully we can and do make a positive difference to people lives.
"I enjoy seeing the transformation of our students and of our clients"