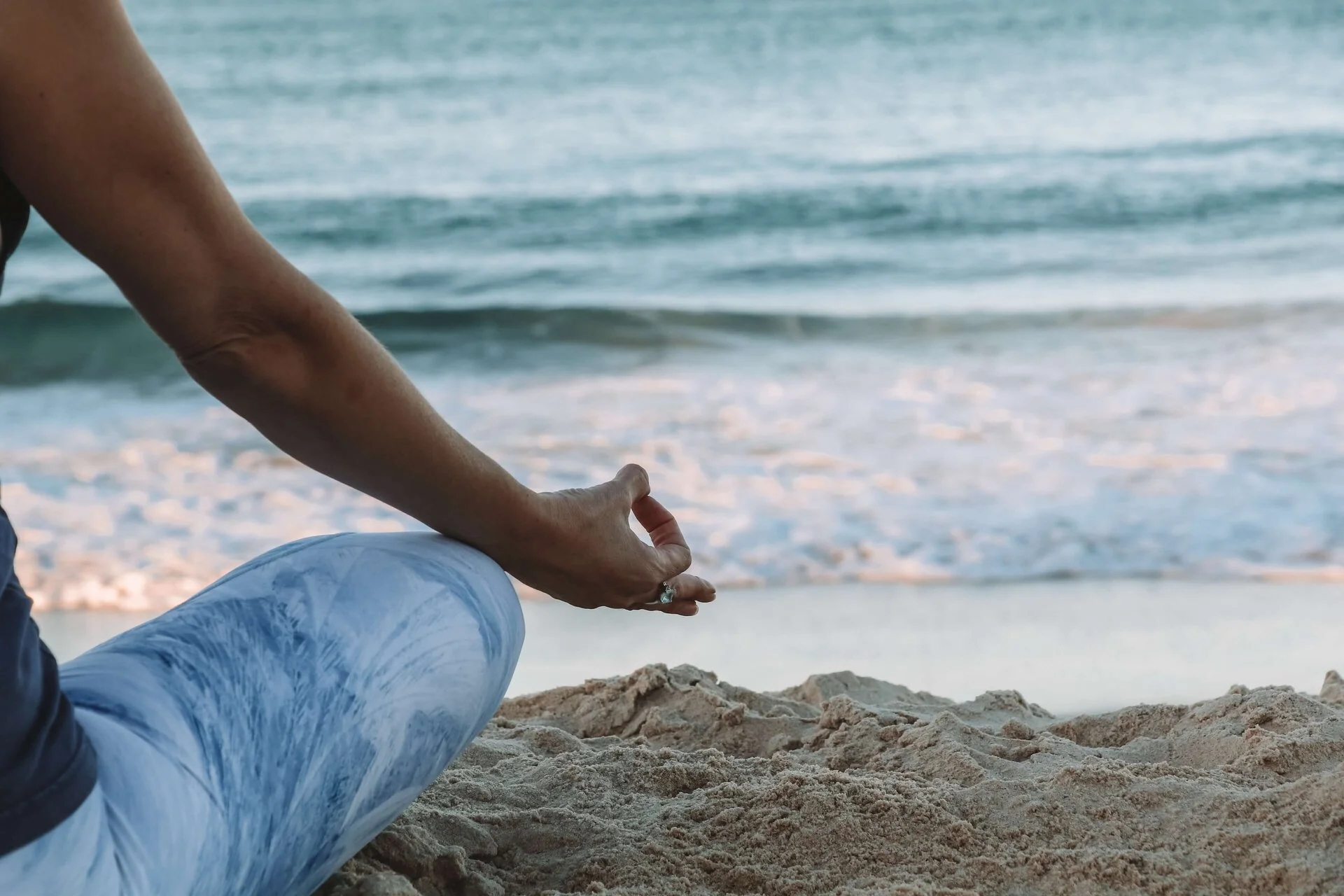 Master Yoga Therapy
Expand your skills.
Attain the Highest Certification in Yoga Therapy Globally

The
5 Values

of Yoga Therapy Greece

Passion & Honest sharing – We believe in Yoga Therapy, and we share everything you need to know in order to become a professional Yoga Therapist, and esteemed colleague.

Faith – We do believe in every individual's full potential to become healthier, happier and wiser.

Genuine Care – We know personally our students, we care about their wellbeing, and we guide them towards their best version of themselves.

Integrity – We are here for you to learn, to transform and to help others become their best version of themselves.

Diversity – In Yoga Therapy Greece we take diversity as granted and we love that we have students from all over the world, different in all terms and unique.
The 5 reasons to become a C-IAYT Yoga Therapist
Why should I study Yoga Therapy?
Deepen your knowledge in Yoga more than you can imagine
Become confident in designing personal yoga practices for each unique person's needs
Be able to give yoga therapy safely and effectively in 1-2-1 and to groups
Get the highest Diploma in Yoga (RYS-500) and in the Yoga Therapy (C-IAYT) in the world.
Become a successful professional C-IAYT Yoga Therapist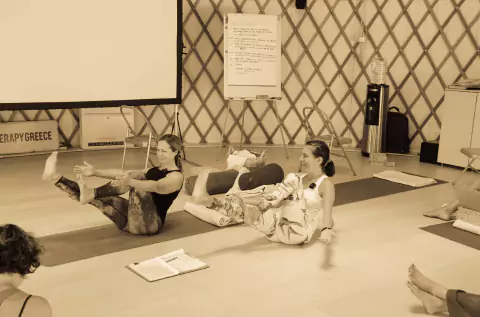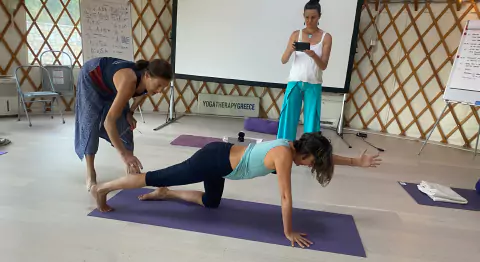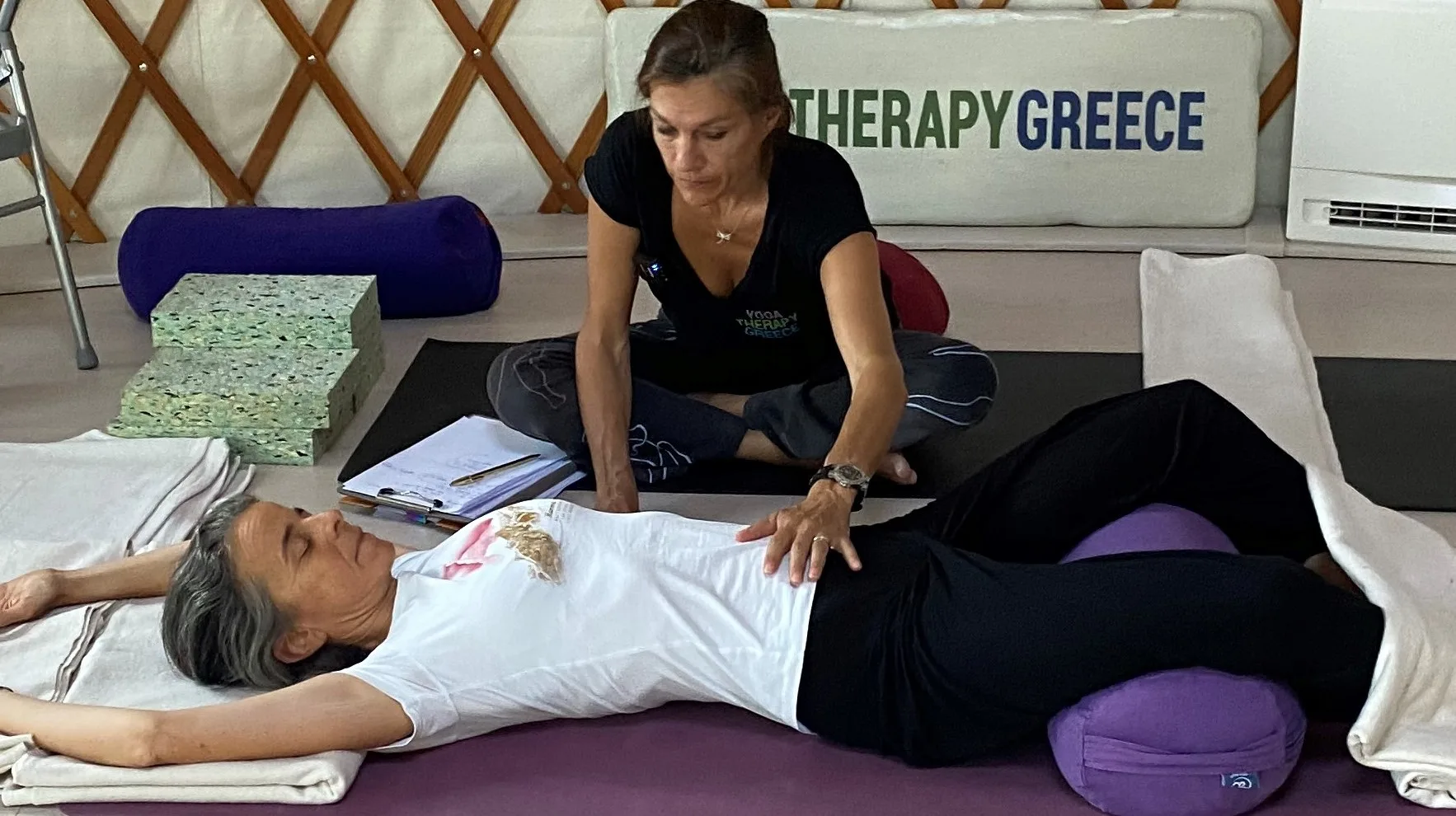 5 unique benefits of the Yoga Therapy Greece IAYT Accredited Yoga Therapy Training.

What makes ours the best Yoga Therapy Program?
The best combination of face to face and online training, of tradition and science.
Unique integration by the highly experienced leading instructor of Viniyoga and Iyengar Yoga, Physiotherapy, Psychology, Neuroscience, Latest Research, Meditation, Yoga Nidra, Mindfulness.
The leading instructor personally guides and follows each student in the whole training.
Yoga Therapy Greece being a Yoga Alliance Registered School and also a IAYT Member School, after the 1st year you get a Yoga Alliance 300 hours Advanced Teacher Training Certificate and after the 2nd year you are eligible to apply to become a Certified Yoga Therapist C-IAYT by the International Association of Yoga Therapists.
Master yoga therapy between the clear blue sky and the clear blue of the Mediterranean Sea.

The 5 steps to become a Yoga Therapist
The 5 steps to get the highest Diploma in Yoga Therapy
Receive the best well researched comprehensive manual you could have in a Yoga Therapy Program
Attend a residential or the online weekends where we immerse in Yoga Therapy sharing and practicing all the tools.
Watch 20 webinars sharing the way yoga therapy is applied to more than 30 real clients. Then review film recordings of these for a month.
Personal supervisions guiding you and giving you confidence in practicing with your own clients.
9 Online weekends that share deep knowledge in chronic pain, trauma, mental health, the development of the disease, yoga philosophy and your professional development. Review film recordings.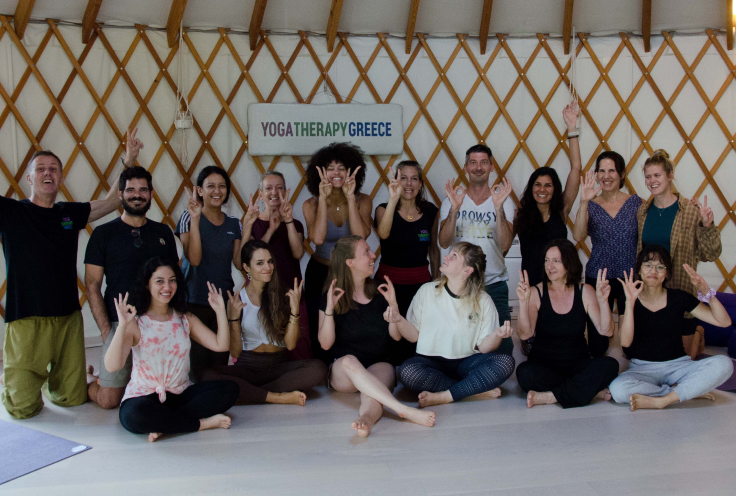 Ideal for
Yoga teachers to advance and deepen their Yoga skills
Health professionals to extend their skills with Yoga Therapy
Every Yoga Teacher that wants to become a Yoga Therapist with the highest level certification in the world
Meet Yoga Therapy Greece
A Yoga Alliance registered school RYS300, an IAYT member school offering IAYT Accredited 805 hours Yoga Therapy Programs, is founded by Evi Dimitriadou and by Brian Ewen.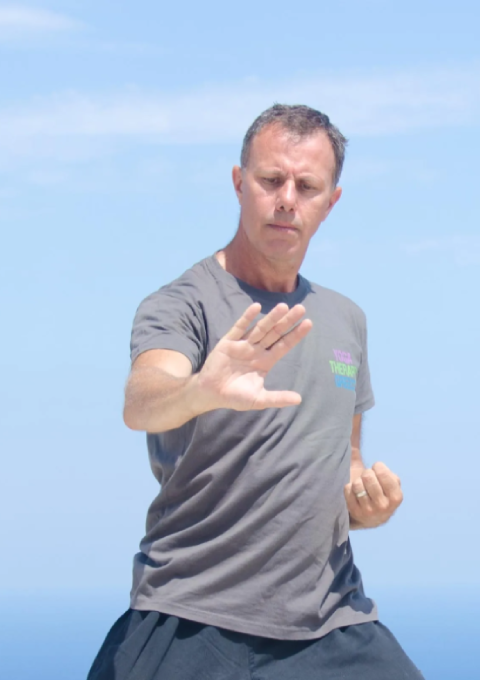 Evi Dimitriadou
Evi is a Certified Yoga Therapist (C-IAYT), a Physiotherapy graduate, with Postgraduate studies in Neuroscience & Psychology.
Brian Ewen
Brian is the School Director of Yoga Therapy Greece, a C-IAYT Yoga Therapist, devoted Tai Chi teacher and acupressure practitioner.
Testimonials
Yoga Teacher (2022 intake)
Angel
Dear Evi & Brian
Thank you so much for this experience diving deep into therapeutic aspects of yoga. It has always been a dream for me to become a Yoga Therapist, and through this residential you have given me so much inspiration and belief that my dream can become a reality. Yoga has helped me so much and particularly this residential has shown me how powerful it can be. I am excited to share all the tools I have learned here and to help others in their healing process. I really enjoyed the power of the breath and pranayama, and how each element of yoga can relate to any type of disease in the body and mind. Much love and gratitude.

Yoga Teacher (2022 Intake)
Mira
I am so lucky to join your Yoga Therapy Diploma. I have been dreaming of taking this diploma for 5 years and you made my dreams come true. The information and knowledge shared is beyond my expectations. I will always remember Evi's sense of humour and how she makes it simple and easy. Thankyou Evi and Brian for all your efforts and support during the residential. Love and Light
Yoga Teacher and Psychotherapist (IAYT Accredited Graduate 2022)
Sophia
Evi Dimitriadou is a passionate and dedicated Yoga Therapist and Yoga Therapy Teacher. Her Yoga Therapy Training is really a value for money course, for anyone who would like to deepen his/her knowledge in utilizing Yoga as a healing modality. I highly recommend Evi, either as a Yoga Therapist or as a trainer in Yoga Therapy, for her professional skills, knowledge and integrity and I am really very happy for being part of her Yoga Therapy Training Group. Thank you Evi for all this valuable info you have shared so far with all of us!

Yoga Teacher (IAYT Accredited Graduate 2022)
Tine
I recommend Yoga Therapy Greece with all of my heart. Evi is such an experienced, knowledgeable, passionate, kind and loving teacher. She meets you right where you are and guides you with much love and knowledge through the studies. You learn so much, and the supervisions makes it feel safe to start practicing with clients.