Recorded 'Befriending Pain' Yoga Therapy Training
14 hours of recordings of Yoga Therapy course educating about pain, about the types of pain, about the ways we can shift perception of pain from a danger sign to a safety potential, how to befriend pain and empower people with simplified scientific knowledge and with the appropriate application and modification of yoga tools.

This course offers a unique opportunity to learn whatever we need to know about pain and how to share simple scientific facts and yoga tools that can make a huge difference to people's lives.
Befriending Pain Yoga Therapy Workshop
Befriending Pain Yoga Therapy course prepares yoga therapists to support people who are facing chronic pain conditions such as fibromyalgia, chronic low back pain, painful diabetic neuropathy, nerve compression of sciatica, conditions for which biomedical knowledge is required.
This course integrates Physiotherapy, Yoga, Psychology and Neuroscience and provides yoga therapists with the biomedical knowledge but also in depth knowledge of techniques to advance their practice and better support their clients.
By watching the Befriending Pain Yoga Therapy Course you gain 14 hours IAYT Continuous Education Hours if you are a C-IAYT yoga therapist as the course is an IAYT Approved Professional Development Course (APD).
Similarly, if you are yoga teacher you also gain 14 hours for Yoga Alliance CPD since Evi Dimitriadou is a registered Yoga Alliance teacher and Yoga Alliance Continuous Education Provider (YACEP).
The training is given by Evi Dimitriadou a Certified Yoga Therapist by the International Association of Yoga Therapists (C-IAYT), a Physiotherapy graduate from Manchester University, she is also doing a Master's Degree in Psychology and Neuroscience of Mental Health Conditions at King's College London and is a Yoga Therapy Educator and founder of Yoga Therapy Greece (RYS-300), a member school of IAYT.
Please see our short film outlining the course
Objectives of the Course?
Participants will learn what is Pain and Chronic pain and will be exposed to the mechanism of pain and the gates of pain theory Participants will learn the different types of Pain – nociceptive, neuropathic, nociplastic (central sensitisation), the different conditions that are examples of different types of pain and what we can do for each kind of pain.
Participants will review how pain is affecting us in terms of physiology, mental state, relationships and social life. Students will learn the biopsychosocial factors such as inflammation, expectations, family etc. that affect pain and how we can affect it. Students will be exposed to the well-established Biopsychosocial Model in medicine, psychotherapy and physiotherapy which is the yogic Pancamaya Kosha model we use in Yoga Therapy.
Participants will learn how Yoga can support people with Chronic Pain and different types of Pain, how each of the yoga tools address different pain factors and how to apply yoga tools for pain such as asanas, pavanmuktasana, yoga sequence, breathing ratios and pranayamas, japa mantra (positive affirmations), chanting, body scan, yoga nidra, guided relaxation and meditation as well as journaling and daily lifestyle tips. Also, participants will learn how to introduce movement and to gradually develop a yoga program, how to change the fear for pain and movement to exploration of movement with curiosity and awareness.
Participants will learn about pain and mostly how to explain to clients about pain, how to influence people's perception about pain and ultimately befriend pain. Participants will learn strategies for educating about pain, ways to target specific pain concepts and reconceptualize pain in order to empower people. Understanding pain neuroscience as well as self- managing pain with compassion leads us to motivate behavioural change and become more mindful, active and healthier.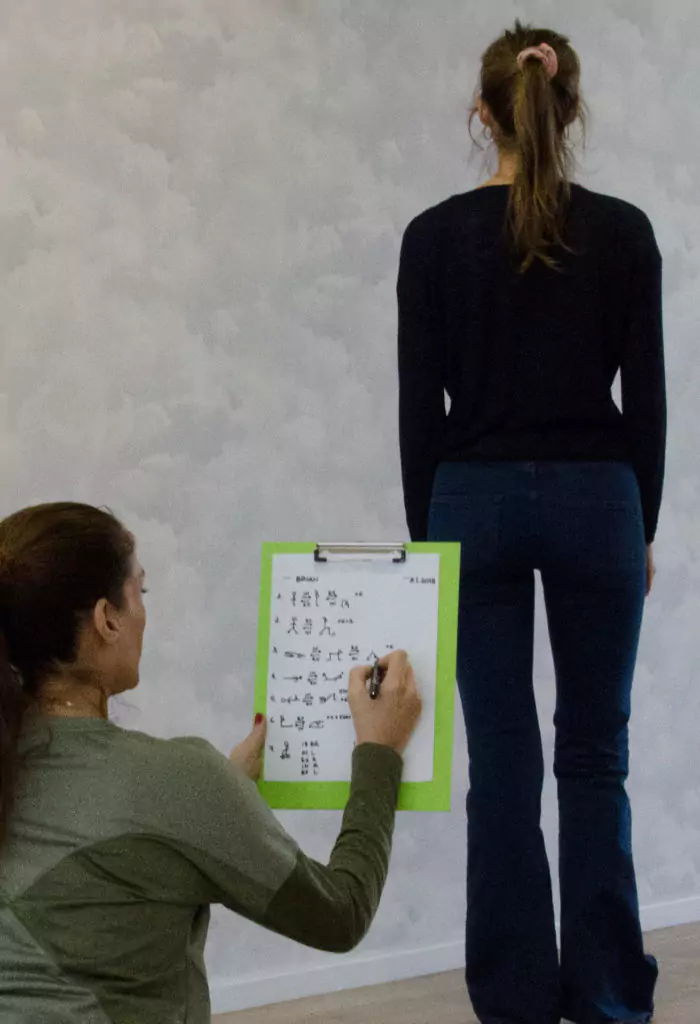 Tuition Fees
The recording of this unique 14 hours Yoga Therapy Workshop will be available to watch for 14 days from day of purchase.
The Cost of the 14 hours recorded Yoga Therapy Course is 140 euros
For booking please contact us at brianew01@gmail.com
Testimonials
Stacey Loop
Certified Yoga Therapist in America
I attended a training on "Befriending Pain" with Evi as part of my required CEU's for my yoga therapy certification. Evi did a fantastic job of weaving both research, science and application of yoga therapy tools in working with clients to reduce pain and suffering. I am thankful to have been able to do this virtually and have already begun applying some of the knowledge into my work with clients. Thank you.
Hend Wahsh
Yoga Teacher/therapist and scoliosis specialist in Egypt
First I'd like to express my gratitude to this seminar. I have learned a lot and really appreciated the way it is explained. It shows how dedicated and passionate you are about the subject and also in providing all the info you have to help us as students.
I also loved the comparison between the conventional methods and the modern and how yoga incorporates the modern techniques although yoga was developed ages ago; which made me believe even more in Yoga and in Yoga Therapy.